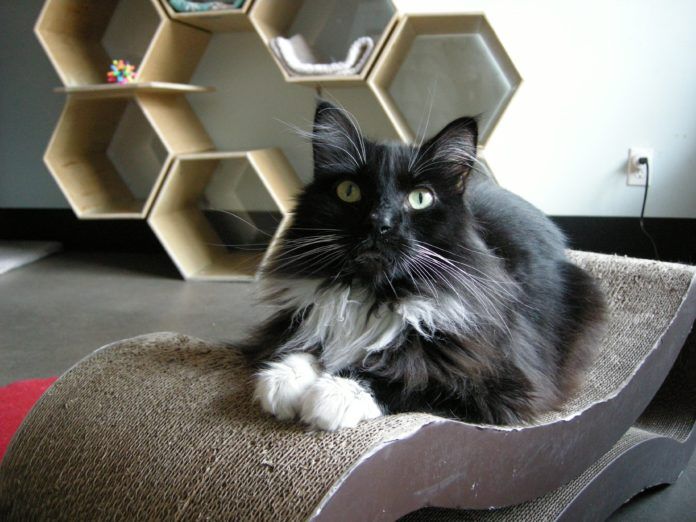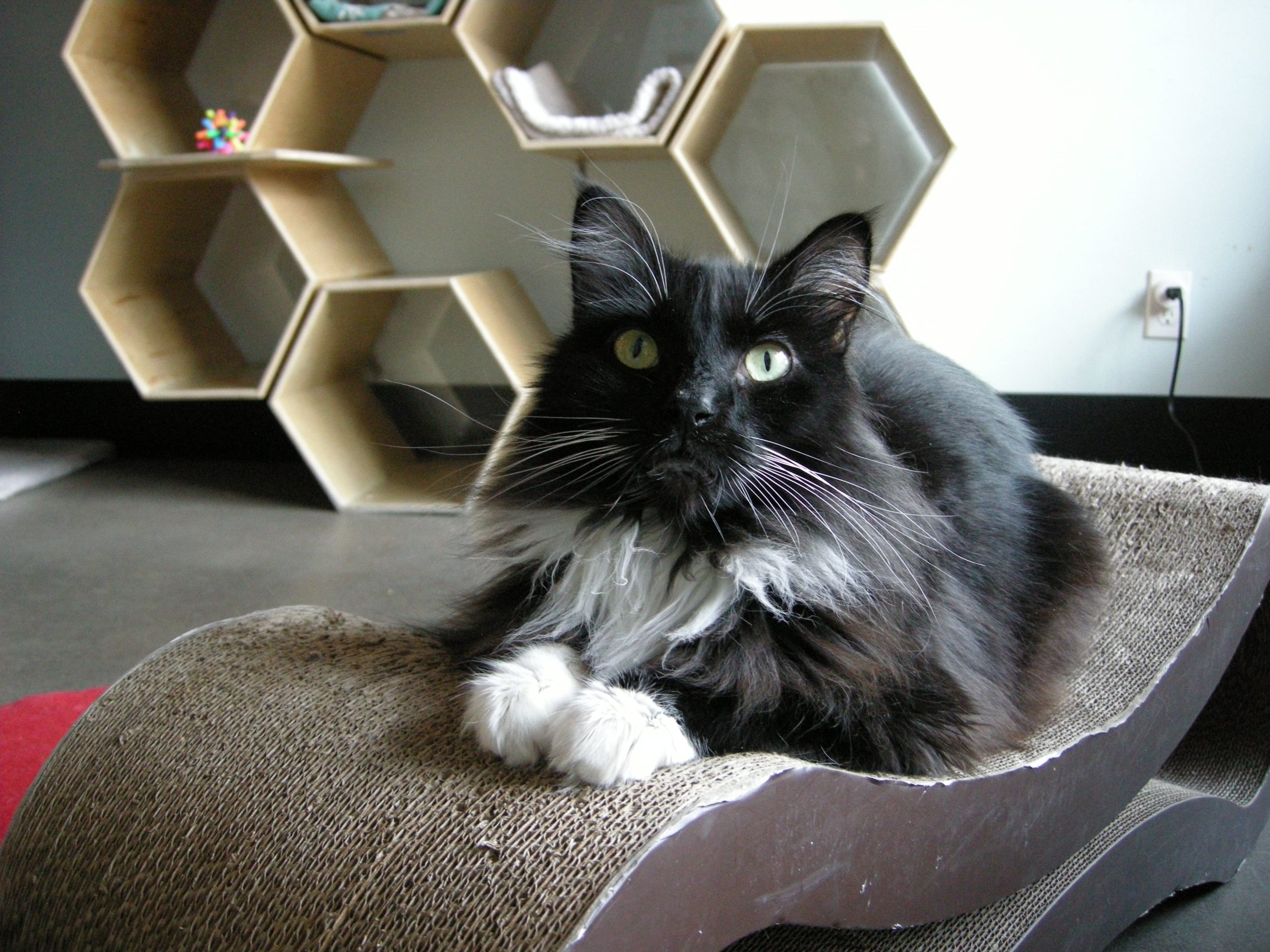 As I settle into the easy chair and sip a cup of tea, Mr. Moo plays with toys, Fernando lounges on the futon and Tiggy Bella is blissfully curled into a cubbyhole mounted on the wall. An afternoon tea break and snuggle time with my cats is my usual routine — but this isn't my living room, nor are these my cats. Mr. Moo, Fernando, Tiggy Bella and a handful of other cats temporarily reside at Purringtons Cat Lounge in Portland, OR while they (briefly!) wait to be adopted into their forever homes.
Cat cafs serve patrons the usual coffee, tea, pastry and other light fare surrounded by a clowder of resident cats living in a home-like setting. The first cat caf, "Cat Flower Garden," debuted in Taipei, Taiwan in 1998, as a place where people could relax and let go of the day's stress. Japan also embraced cat cafs with open arms because people yearned for a place filled with warm companionship, and most rental apartments prohibit pets. From there, cat cafs swept across Asia, into Europe and North America.
When the cat caf concept reached the U.S., it opened with a distinctive flair — the cats often came from local shelters and were adoptable. America's first cat caf was a temporary pop-up in New York with adoptable cats from North Shore Animal League. In October 2014, the first established cat caf, Cat Town Caf, partnered with a municipal animal shelter, opened in Oakland, CA. The combination of caf and adoption center proved to be not only popular but successful, as adoption rates increased and euthanasia rates decreased. The race was on as cat cafs burst into every region of the U.S.
Why this formula works
Purringtons Cat Lounge — which partners with Cat Adoption Team, a feline-only shelter in Sherwood, OR — is not only the Pacific Northwest's first cat caf and adoption center, but also the first to serve beer and wine and food made in-house. Perhaps their most impressive number is that over 500 cats have been adopted since opening in January 2015. There's more than caffeine powering these successful partnerships — it's a savvy strategy of understanding feline behavior and reducing the stress of shelter life for cats.
"Most cat cafs are set up as a free roam, home-like environment. Granted, most households would not have 10 or more cats," says Sergio Castillo, co-owner of Purringtons. Cat Adoption Team communications and development manager, Heather Svoboda says, "In a shelter environment, some cats become more shy, anxious or over-stimulated than they would be once at home. Because a caf is more of a home-like environment, the cats are often able to show off more of their true personality and behaviors, which means they have a better chance of being adopted into a home where they'll be successful and happy together."
Being out of the shelter and in the caf also puts the cats in front of a larger audience of potential adopters, says Svoboda. Castillo feels that the home-like setting also works better for certain people. He says, "Some visitors have shared with us their uneasy experience of seeking cats at shelters, so this definitely provides a more favorable way for them to make connections and, ultimately, adoptions."
For potential adopters who already have a cat, a dog or other pet, it's also a good opportunity to see which cat may be the best fit for the household. Then there are the people who didn't plan to adopt, but fell in love with a cat they met at the caf, says Svoboda. "We've had situations where two cats become bonded friends while hanging out in our lounge — and adopters were able to see this and adopted them both together," says Castillo. "That's happened several times and is one of the many rewards we get from running a cat caf."
Me, me! Hey, pick me!
There is a selection process for choosing cats that will thrive in a caf; simply put, not every cat has a caf personality. "Cat Adoption Team picks the cats for us. We engaged with them at a very early point of our startup way before we had a building," explains Castillo. "They were involved in our build-out and have knowledge of our environment. This is important because it is one set of information they use when looking at candidates to send us. The goal is to keep anxiety and stress levels down."
According to Svoboda, "At Purringtons, the cats are all housed together and interact with lots of people, so it's important that cats who go there for adoption are friendly with other felines and comfortable with people of all ages. Cats who are confident and resilient and who enjoy handling/petting are also good candidates." She says they do have other housing options for those cats who aren't comfortable in a caf setting.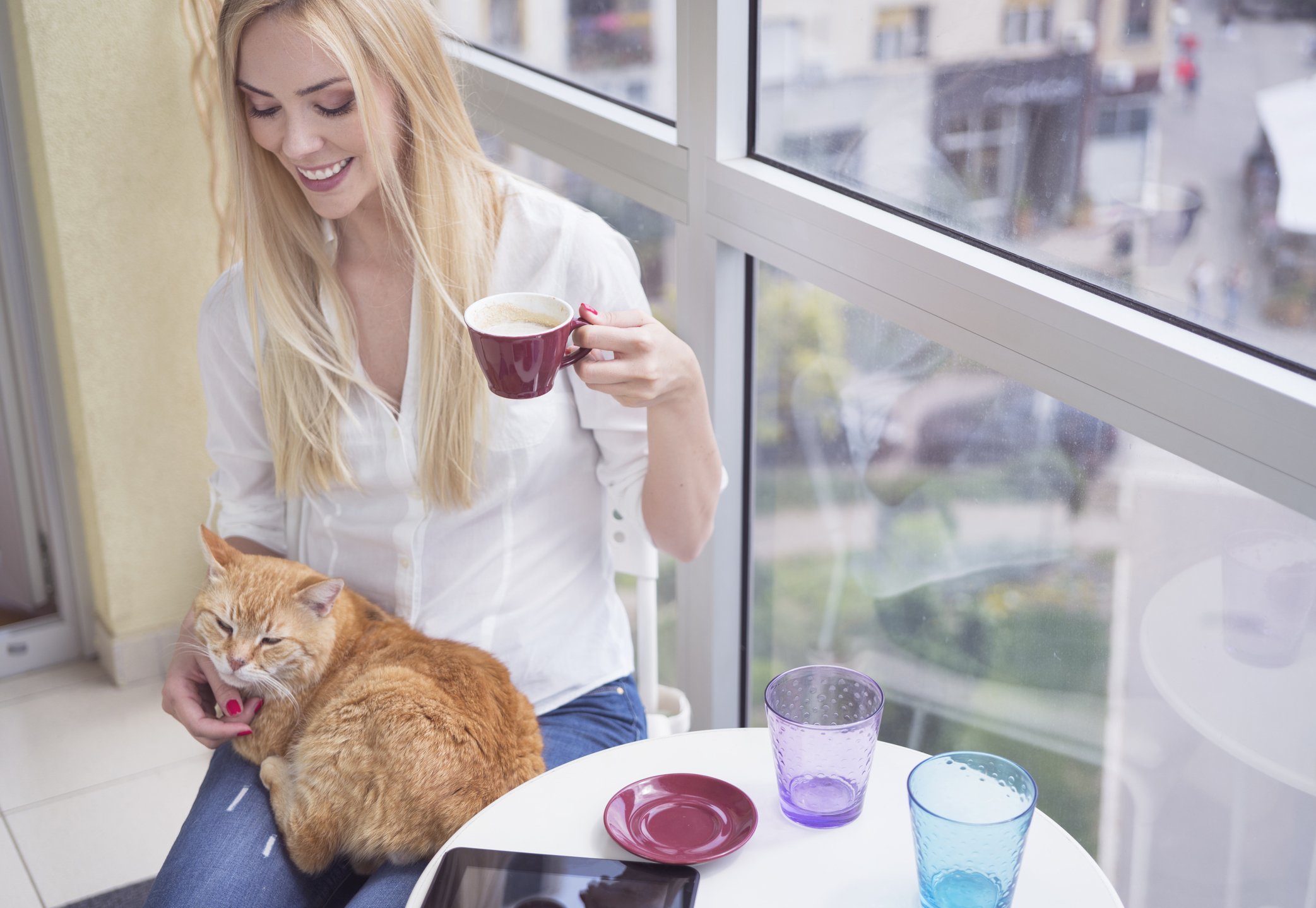 The adoption process
If you find yourself completely smitten with a cat during your cat caf visit and ready to adopt, you'll likely need to go through the same adoption process as you would at a shelter. Purringtons, for example, doesn't permit same-day adoptions. "We handle adoptions in- house; my wife, Kristen, is our certified adoption counselor. The adoption interview takes about 30 to 45 minutes — we talk about what type of household the cat is going to, if there are other cats, dogs or children in the home, and if they have landlord permission for a pet if they rent their home.
"Obviously, we want to rule out considerations that may lead to the cat being returned to the shelter. If the interview goes well, the prospective adopter fills out an application, agrees to Cat Adoption Team's adoption policies and pays the adoption fee. Then we make arrangements for the actual adoption on an agreed date, which also allows the individual time to make sure the cat's new home is ready for arrival," says Castillo.
Know before you go
There are a few rules of etiquette that will help make your cat caf visit even more enjoyable. One rule most cafs share is: Do not pick up the cats. Castillo says, "We understand why you want to, why we all want to. The rule is firstly for the well-being of the cats; it's up to them to decide if they want to interact. It's also to protect our visitors; we don't want anyone to get scratched or bitten. A better approach is to sit down, be at ease and let the cat approach you. Good things come to those who wait!"
Make reservations first
Most cafs schedule visits for about an hour, and restrict the number of people who can be in the cat room at one time. For that reason, reservations are strongly recommended, especially during peak times like weekends. Some cafs have age restrictions, which may not allow children under a certain age, or allow children only at certain times of the day or week. To avoid disappointment, call or check the caf's website for FAQs before you go in order to make the most out of your visit. — Ramona Marek, MS Ed.