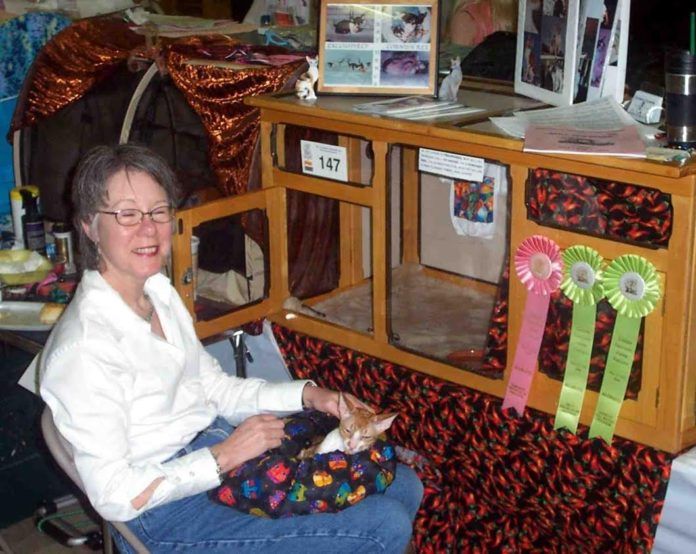 Are you thinking about entering your cat in a show, but not quite sure how to begin? Joan Miller — CFA All Breed Judge Emeritus, Chair of the CFA Outreach and Education Committee, CFA Board Member and former breeder of CFA National Award winning Abyssinian cats for 20 years — offers some advice. "The first thing to do is to visit a local cat show as a spectator," suggests Miller. "This gives you the opportunity to view a wide variety of different breeds, to watch the judging and to talk with some exhibitors. This is an excellent way to get familiar with what a cat show is really all about."
According to Miller, "Many Cat Fanciers' Association (CFA) shows have ambassadors wearing 'Ask Me' buttons, and to make the show more interesting and easier to follow, some CFA shows have educational rings as well."
What it requires
Since many cats become anxious when in a noisy, unfamiliar environment — and being handled by strangers — ideally, you should start showing in the kitten class to get your cat accustomed to the routine of competition. Kittens are eligible at four months old, but cats over eight months old compete in the adult classes.
Before you decide to enter your cat into show competition, you should determine if your cat has a fairly easy-going temperament. This will go a long way to ensuring that your first show experience will be one that is enjoyable.
Most organizations stipulate that your cat is healthy and vaccinated before you can show her. Be certain to have copies of this documentation from your veterinarian, and remember to bring the paperwork with you to the venue (you may be required to show it at some point).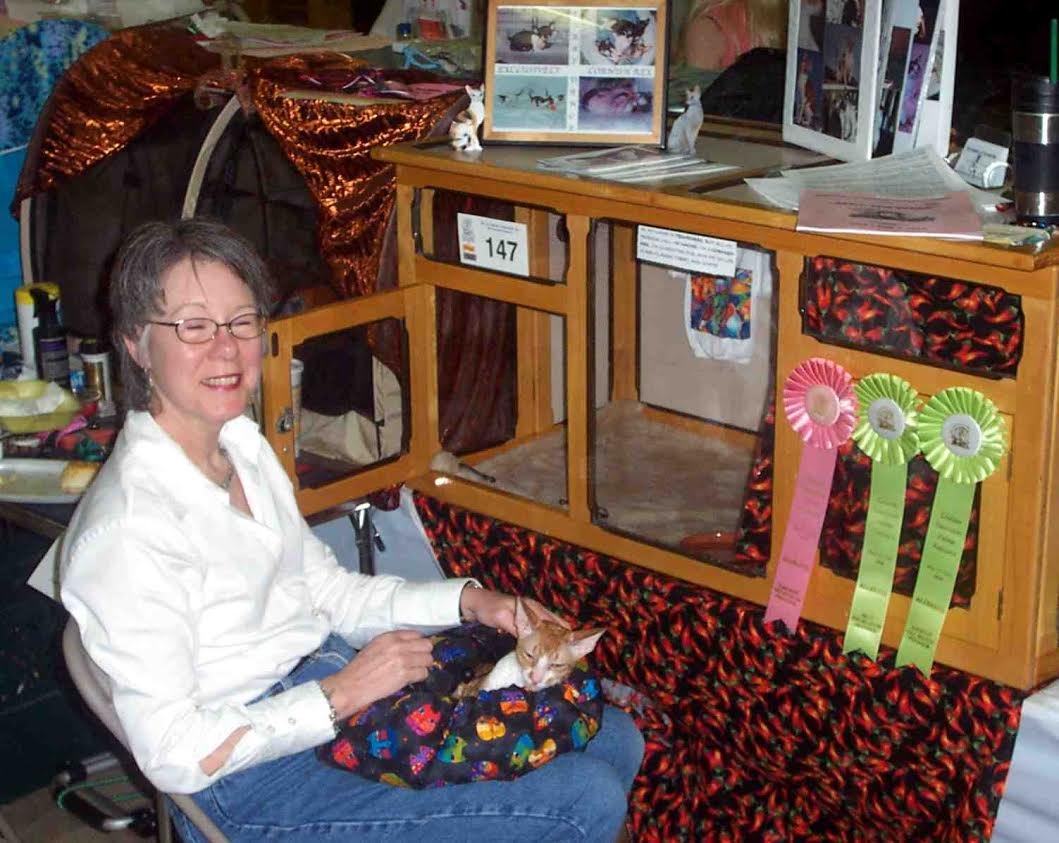 "Good condition, weight and proper grooming are imperative," stresses Miller. "Bathing your cat should be started long before going to a show. Learn the proper techniques to get a cat accustomed to having a bath, clipping claws, combing, brushing and/or 'wet hand' grooming. Additionally, feeding a diet suited to the breed gives an extra bonus for show cats."
A cat carrier is essential for transporting your cat to the show. The best type is an airline-approved carrier with a top opening. You should help your cat become accustomed to the carrier well before the show. Leave it open on the floor for your cat to play in and sleep in. To make it even more appealing, you can put some toys and treats inside the carrier. Once your cat is used to it, put her into the carrier, close it for several minutes and stroll around the house. Then open the carrier door and give your cat a favorite treat. Repeat these steps until your cat feels secure.
Setting up your space
Once at the venue, you will need a set of show curtains. These are used to line the inside of the show cage provided by the show management. Curtains also prevent your cat from seeing neighboring cats benched in adjoining cages.
The ideal curtains are made from one piece of material cut to fit the full size of the cage. But if you don't feel prepared to make your own curtains, you can also use bath towels and safety pins fastened properly to the cage walls. You will get more ideas about show cage decorations by checking out the variety of curtain types that exhibitors use.
Ways to make her feel at home
To help relax your cat, you should put a favorite toy in the cage, and a water dish (bring bottled water from home), a bed or pillow and a feeding bowl. Show management will provide cardboard litter boxes, cat litter and may even provide food — but it's a much better idea to bring your cat's favorite food from home.
You will need grooming supplies such as a comb and a brush. (There are tricks that you will learn along the way, such as rubbing a short-haired cat's coat with a chamois cloth to make it smooth and shiny.) And before going to the show, you need to trim your cat's nails. Additionally, it's wise to arrive at the show hall at least an hour before judging begins so you can set up your cage and not feel rushed.
Professional organizations
There are many cat registry organizations, including The Cat Fanciers' Association, (CFA), the American Cat Fanciers' Association (ACFA), Cat Fanciers Federation (CFF), the International Cat Association (TICA) and the Governing Council of the Cat Fancy (GCCF) in Great Britain (see sidebar above for contact information). If you are planning to enter a pedigreed, registered kitten or cat, you should contact the organization in which your cat is registered to order a copy of the organization's show rules and breed standards.
The show rules provide essential information about how to enter your cat, eligibility for showing and what your responsibilities will be as an exhibitor. The breed standard describes the ideal cat, defines the various breed colors — and includes the issues that would disqualify the cat from competing. Neutered or spayed pedigreed, registered adult cats that conform to the breed standards are eligible for competition in a special division called Premiership.
Classes for household pets
Most cat shows also offer Household Pet classes. These classes do not require cats to be registered or have "papers." Competing in the Household Pet division in either kitten or adult classes can be a lot of fun. In fact, many active exhibitors first get involved in cat shows competing with household pets.
Judge Miller suggests, "It is best to start your kitten or cat as young as possible. One can expect the cat at first not to like anything about the whole process: riding in the car, being in the carrier, the various show hall noises and the judging procedure. So with the right preparation, it will be a lot easier."
Cats being shown in the Household Pet division should also be well groomed, have a clean coat and ears, clear eyes and be free of external parasites. Some registries allow cats to compete in the Household Pet Division without all their physical properties, such as missing eyes, ears or tail.
Purebred cats without "papers" are also eligible for this division. Purebred cats not qualifying for Championship classes — such as a straight-eared Scottish Fold or a kinked-tail, cross-eyed Siamese — may also compete in the Household Pet division.
All Breed Judge Teresa Keiger is Co-Chair of the CFA Mentorship/New Bee Program, Chair of CFA Outreach & Education and the editor of CFA's bi-monthly publication, Cat Talk. She has had the opportunity to judge across the United States, Europe, China and Malaysia, as well as associations in Australia and New Zealand. Keiger started showing cats in Premiership classes with a Russian Blue. She was thrilled when he became a Grand Premier.
While she loved showing, she actually had to be persuaded into entering the judging program. After she finished all the necessary requirements — which include clerking for judges, being a show secretary and show manager, among other tasks — she entered the judging program in 2007.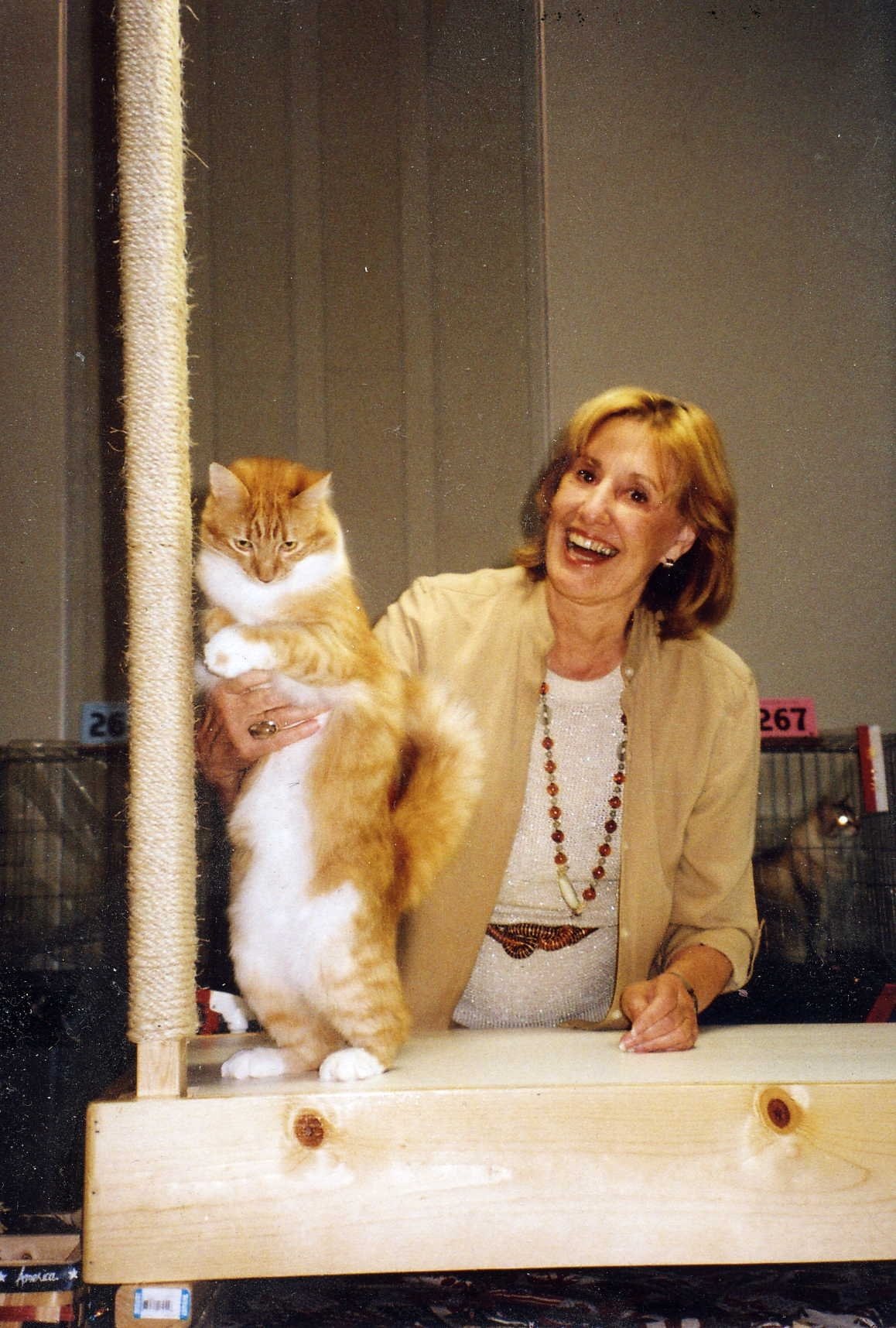 "What I enjoy the most about judging cats is handling all of them," explains Keiger. "They're mine when on the bench. I love interacting with new exhibitors and seeing the joy they feel when their cat wins. It's a wonderful feeling to make them happy."
Much in the same way that registered, pedigreed Championship competition counts regional points, Judge Keiger explains that, "CFA will also count Household Pet regional points, making competition in this class more exciting."
Judge Keiger also suggests that "If showing registered, pedigreed cats in competition is more appealing to you than showing Household pets, starting out in the Premiership Division is an excellent introduction to the hobby."
Starting out slowly
Veterinary technician Teri Thorsteinson — a former breeder and exhibitor of award winning Cornish Rex cats for 22 years — began her show "career" competing in the household pet division. While attending a show, she met a Cornish Rex breeder and instantly fell in love with the breed. "You have to be a cat lover before you start showing," stresses Thorsteinson. "Most household pet guardians think that their cat is the most beautiful cat in the world; so rather than starting in the Championship classes, it can be a lot more fun to begin competing in that division." — Jo Singer