You do your best to make sure your cat is pampered and enjoying the good life. But you may be overlooking her innate prey drive and need for a challenge that goes beyond what a dangled feather can offer. Food-containing puzzles that require feline strategy and focus will help satisfy her urge to hunt for her meals and take time with them rather than eat them all in one sitting. Some people feed their cats exclusively via food puzzles. Here are some good choices.
TRIXIE Fun Board offers five food-retrieving games in one, providing mental stimulation, exercise, and skill training. Fishbowls, mouse holes, and alleys are among the five modules that cats need to work with to retrieve their edible reward.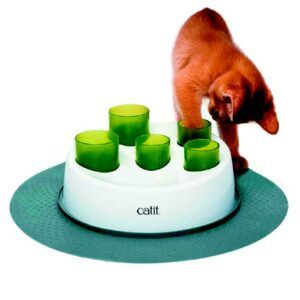 The mouse hole tunnel allows for pouncing on hidden treats and toys inside. The alley is best reached while lying down to poke and drag up treats. The nonslip plastic game board measures 12 x 16 inches and is dishwasher safe. Available on chewy.com and on amazon.com for $26.99 to $28.39.
Catit Senses 2.0 Digger Interactive Cat Toy will satisfy your pet's natural inclination to paw for her provisions by requiring her to reach into rounded green tubes on a white weighted base. She can lift up food and other goodies, such as a small, catnip-filled mouse. A rubber mat prevents the base from slipping. Available on amazon.com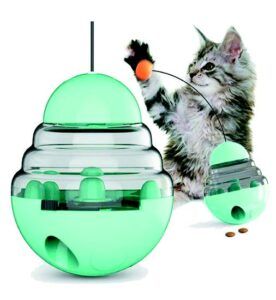 and chewy.com for $14.99.
CODACE Cat Toys Interactive Food Dispenser, Cat Feeder IQ Treat Ball does triple duty as an adjustable cat puzzle feeder, self-training ball, and anxiety buster. The wide, rounded base keeps the dispenser from falling over. Instead, it bounces back up like a roly-poly Weeble toy when your cat swats at it. Food is placed through the removable top, and by adjusting the size of the opening, you decide how much food you want distributed at a time. Available on amazon.com for $12.99.
Catit Hagen Treat Ball is equal parts treat dispenser and rolling ball for chasing down and batting out food and treats inside. Its straightforward design requires only that you screw off the lid, pour in the food or treats, and then tighten in accordance with how easily you want the contents to be released. Available in blue or pink on chewy.com and amazon.com for $8.67.
Petstages Buggin' Out Puzzle and Play, an interactive multi-compartment food puzzle with a green leaf and ladybug design, has 16 compartments. They require a shifting of the ladybugs by your cat in order to get up to a quarter cup of food hidden in cups and crevices. The game has no removable parts, which keeps everything in one place. Other models include Melon Madness, with seeds that need to be pushed aside to reach edibles, and the more complicated Rainy Day Puzzle, with raindrops that need to be brushed away carefully or another raindrop shifts and covers the desired treat. All available on chewy.com, petco.com, and amazon.com for $14.97 to $24.99.
PetSafe Slimcat Feeder Ball has a twist-off cap so you can place up to two thirds of a cup of kibble inside, visible thanks to the toy's translucent plastic material. The 2.3-inch ball has various settings for how much kibble is released at a time, encouraging play and exercise for meals. The top-rack, dishwasher-safe ball comes in blue, green, pink, or orange and is available on amazon.com for $6.95. A similar option is the PetSafe FUNKitty Egg Cersizer Interactive Toy and Food Dispenser — the egg-shaped version of the Slimcat Feeder Ball, measuring 3.8 inches x 3.0 inches and made of the same translucent plastic material in blues and purples. Available on chewy.com, petco.com, and amazon.com for $7.99.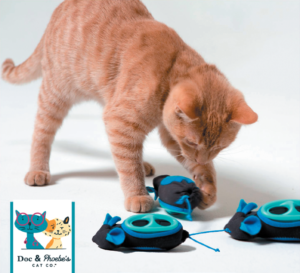 Doc & Phoebe's Indoor Hunting Cat Feeder provides three mouse-shaped toys for you to hide so your cat can track them down and then bat them about until their contents come free. The plastic mice are safe for the upper rack in the dishwasher, and the cloth mouse coverings can be machine-washed and tumble dried. Comes in a variety of colors. Available on amazon.com, walmart.com, and chewy.com for $13.29 to $19.25.