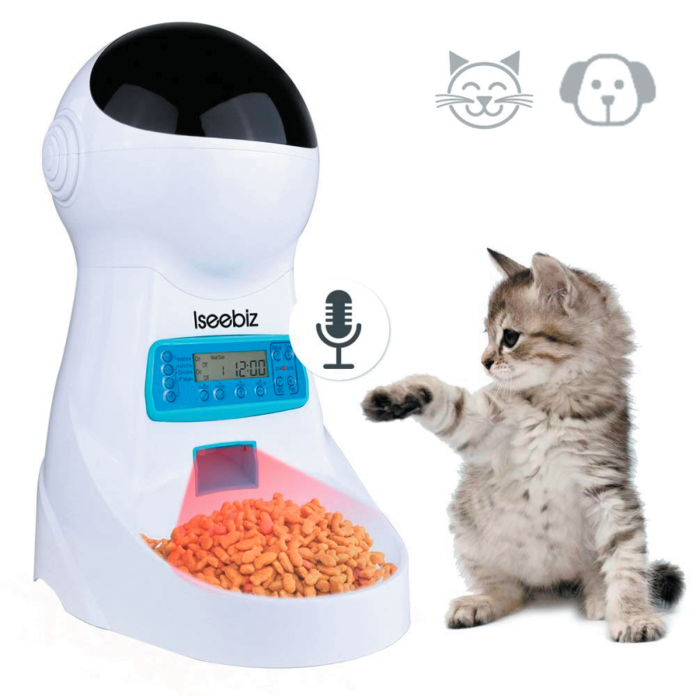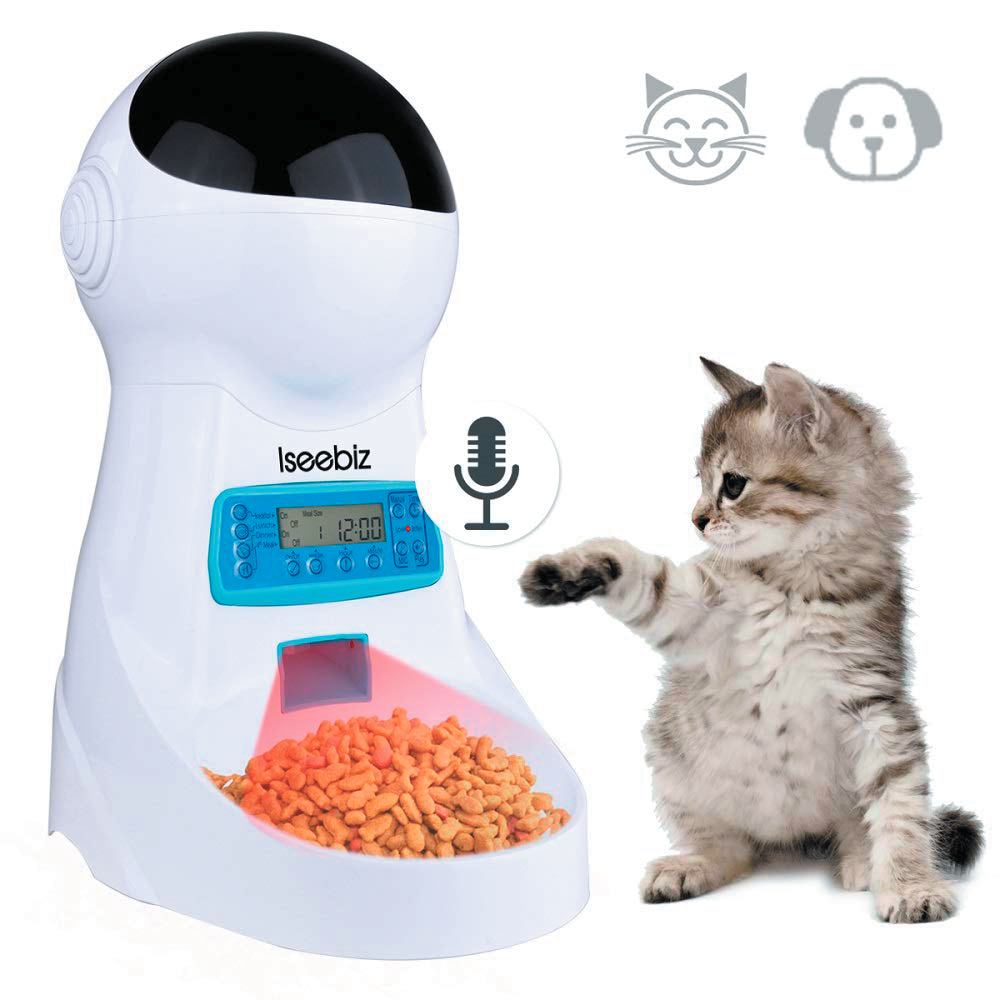 © Iseebiz
Last month we recommended feeders that are set to open at specific times with specific amounts of food so that you don't end up overfeeding your cat. But automatic feeders do more than control portions. They also teach your pet there's no point in begging, allowing you to sleep uninterrupted. Since the food is "handed out" by the machine, your cat quickly learns there's no use swatting your head at 5 a.m. Further, the feeder will dispense your cat's meals even if you have to be out of the house from early in the morning until after dinnertime.
These devices range from being able to provide simple timed feedings, to WiFi-enabled programs that you can operate through a phone app. Many run on batteries — all to the good if your cat enjoys chewing on power cords.
Make sure your feeder can provide the food you want to feed — only some can dole out wet food, for instance. Following are various options, ranging from basic to deluxe.
PAWISE Automatic Pet Feeder 2-Meal Food Dispenser is an "Amazon's choice," determined by high ratings and reasonable price. This unabashedly low-tech, no-frills dry and wet food dispenser keeps meals cool with an ice pack and batteries. The feeder provides two meals within a 48-hour period, and its removable food tray is dishwasher safe. Available on amazon.com for $29.99.
JEMPET Automatic Pet Feeder provides five meals per day, wet or dry, and lets you record your voice to say something sweet to your pet or alert her to feeding time. Works with dry or semi-wet food and comes in black or black and white. Available on jempet.com for $45.99.
PetSafe Eatwell 5-Meal Automatic Pet Feeder operates on four D batteries. Dishwasher-safe with BPA-free plastic trays that rotate, it provides a fresh feeding with each pre-set time. Dry food only. Available on chewy.com for $52.95.
Homdox Automatic Pet Feeder Food Dispenser allows you to program four meals at a time. Your pet is alerted to the dispensed meal by the sound of your recorded voice coming through the feeder's speaker. Dry food only. Available on amazon.com for $57.99.
Iseebiz Automatic Cat Feeder is an "Amazon's Choice" product. The food dispenser works for medium and large cats, providing four meals that are served according to your specifications with a programmable timer and portion-control feature. An infrared sensor stops dispensing food once the appropriate serving is given, and a 10-second recording of your voice can be programmed to alert your cat that her food is ready. Dry food only. Available on amazon.com for $58.99.
PETKIT Fresh Element Automatic Pet Feeder Food Dispenser works via a smart phone app that allows you to provide fresh food for your pet by programming a timer or asking Alexa to "feed 1/4 cup now." An oscillator in the gizmo mixes the food up a bit and then portions it out in the appropriate measurement. And a silicone rotator helps maintain freshness while also preventing blockage so your cat cannot go hungry due to a malfunction. Provides wet and dry food. Available on amazon.com for $159.99.
Sailnovo Automatic Cat Feeder Food Dispenser has a voice recorder to call your pet for as many as four programmed feeding times. Infrared detection technology prevents spilling and blocked food. Can be cleaned with a damp cloth. The screw-on top lid prevents even the most determined cat from gaining access to stored food. Uses three D batteries. Comes in two sizes: 4L costs $55.99 and 6L costs $79.99 on amazon.com.
-Train your cat in wearing a harness and leash as soon as possible.
-Help your cat get used to traveling comfortably in a vehicle.
-Give your cat opportunities to socialize and visit new places, such as the homes of friends and family, pet supply stores, and warehouse-style hardware stores.
-Be prepared for regular grooming, since infection control is a major concern in therapy animal work.
-Keep your cat's claws short.
-Get your cat comfortable with periodic bathing and wipe-downs of coat and paws.
"A cat who loves meeting new people, being touched, and thrives on attention, and one who handles unexpected circumstances without much stress, will be the best candidate for therapy work," she says. "Pet Partners knows that not every cat is suited to being a therapy animal, but we are committed to supporting those that are."
For more information:
Pet Partners: https://petpartners.org/
Tufts Paws for People: https://hai.tufts.edu/paws/ (Tufts University partners with Pet Partners to offer this program.)