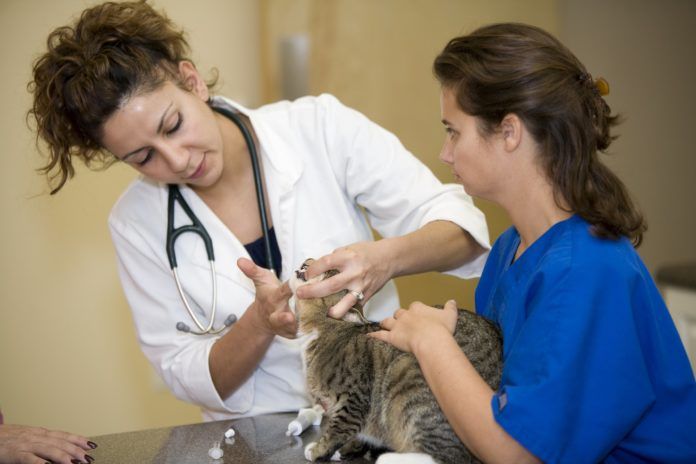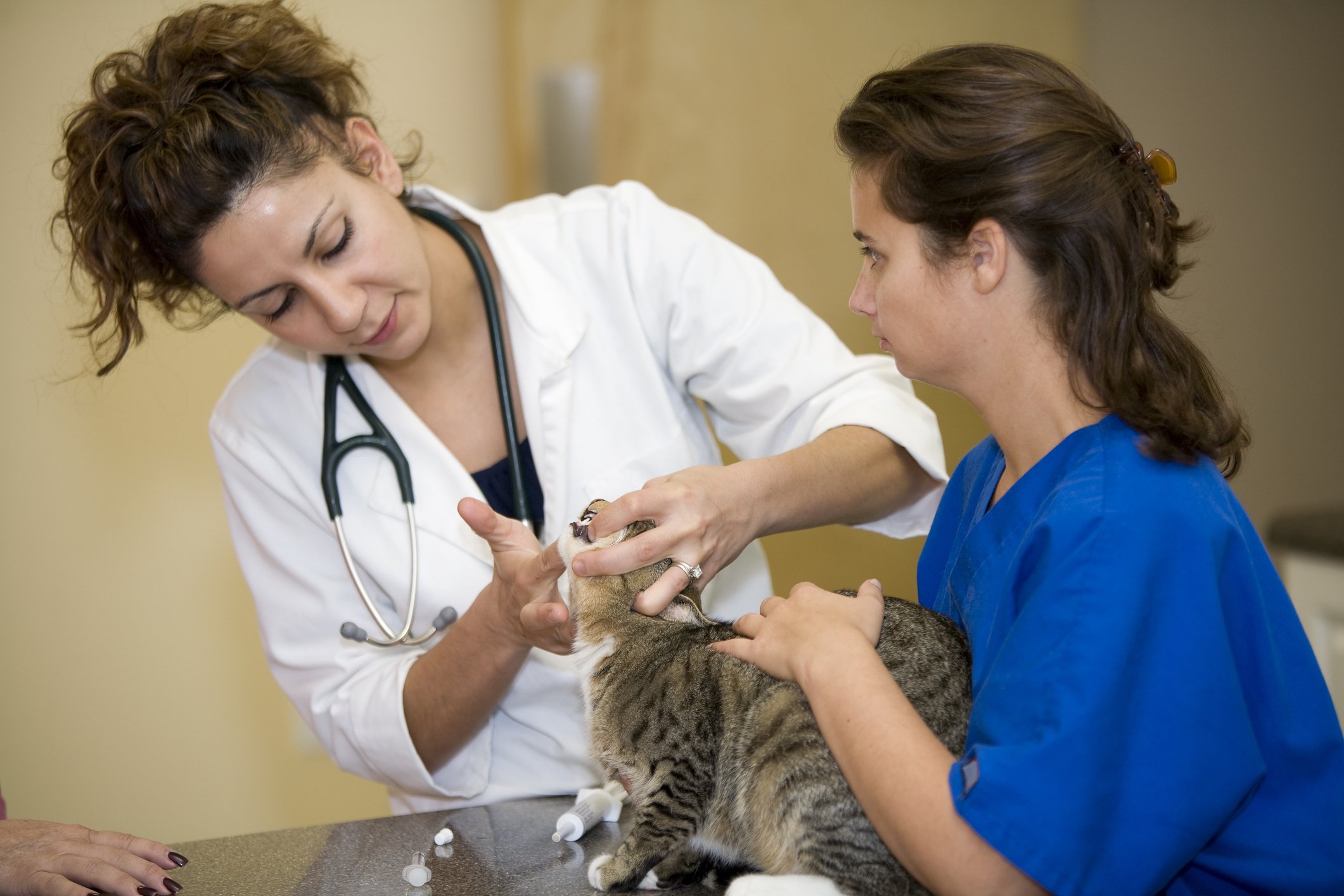 There are a variety of employment opportunities within the veterinary profession that do not require you to become an actual veterinarian. It's understood that one must love animals, care deeply about their wellbeing and have an abundance of patience to work in the field. Just as importantly, specific skills, knowledge and educational requirements are necessary to be qualified for these employment opportunities.
According to the Bureau of Labor Statistics, certain positions in the veterinary field are growing at an accelerated rate. Whether you are just beginning your career, starting over or starting again after retirement, there are numerous jobs in a variety of settings that include private clinics, animal hospitals, shelters, wild life sanctuaries and zoos. Some of the positions do require a degree, certification or license, while others don't. You may be pleasantly surprised to learn that some positions may already fit your interests and existing job experience and credentials.
Vet technician or technologist
A veterinary technician or a technologist is a veterinary nurse who assists veterinarians with patient exams, administering medications and treatments, surgery, anesthesiology, lab diagnostics, collecting blood and urine samples and much more. A veterinary technician is a graduate from a two-year American Veterinary Medical Association (AVMA)-accredited associate's degree program from a community college, college or university. A technologist holds a four-year bachelor's degree from an AVMA-accredited program. According to the National Association of Veterinary Technicians in America (NAVTA), there are over 230 AVMA accredited Veterinary Technology Programs in the United States.
Caution! It's important for you to know that the correspondence courses seen on television are not AVMA-accredited! These are certificate programs for veterinary assistants — not veterinary technicians — and graduates are not allowed to sit for the credentialing exams in most states. However, there are some accredited AVMA online veterinary technology programs. Learn more at www.avma.org.
Upon program completion, each candidate must pass a state-administered credentialing exam (most states utilize the Veterinary Technician National Exam). After passing the exam, the candidate becomes credentialed as Licensed Veterinary Technician (LVT), Certified Veterinary Technician (CVT) or Registered Veterinary Technician (RVT) following requirements of the technician's home state.
Every state has its own guidelines regarding credentialing, the number of necessary continuing education credits needed each year and license renewal. A credentialed technician can usually work in another state by transferring their test scores and paying a fee; each state has its own guidelines, so be sure to understand those in your particular state.
A technician may become a specialist in a particular field such as dentistry, dermatology or anesthesiology. They must spend at least 75 percent of their time in the specialty field and pass an exam administered by a Specialist Academy. NAVTA recognizes several technician specialties in the form of societies or academies.
The median pay for veterinary technicians is approximately $16 an hour or $33,500 a year. Most techs work more than 40 hours a week, depending on the shifts and settings. The vet tech occupation is projected to grow 20 percent —much faster than average occupations — between 2018 and 2026.
A key team member
A veterinary assistant is vital to the veterinary team by assisting the veterinarian and technician with their roles. During the day, a vet assistant may be setting up or cleaning the exam room, filling in at the reception desk, assisting with nursing care, updating medical records or helping with inventory. Vet assistants are required to have a high school diploma or equivalent, and most are trained on the job by the veterinarian or vet technician. Some vet assistants may have training from a college certificate program or through a distant learning program over the internet.
NAVTA has created an Approved Veterinary Assistant (AVA) designation available in the United States. After completing the NAVTA- approved veterinary assistant program coursework and passing the Approved Veterinary Assistant examination, the individual can receive certification as an AVA. Currently, NAVTA approves 35 programs located in the United States and Canada, along with three approved online programs.
The average salary for vet assistants is $12.50 an hour or $26,200 annually. The hours vary according to the shifts, although some evenings and weekends may be required. The demand for veterinary assistants is projected to grow 19 percent between 2018 and 2026.
Visit NAVTA for more information about vet techs, technologists and vet assistants (www.navta.net/page/faqs).
Making a good impression
The veterinary receptionist is the first person a pet owner encounters during a telephone call or upon entering the vet clinic, so it's vital that this individual makes a good first impression. The receptionist performs many administrative tasks and needs to be comfortable around dogs, cats and other domestic pets.
For the position of receptionist, most clinics or facilities require a high school diploma or equivalent. Candidates typically must have experience with computers and other office equipment. Training is often on-the-job, and lasts long enough to allow the receptionist to learn the standard operating procedures for the specific clinic or facility. Experience with specific software applications may be required by some employers.
Customer service, professionalism and communication skills are essential for this position. It's important to be able to remain calm when assisting pet owners in stressful situations.
The median income for receptionists is $28, 390 a year or $13.65 per hourly wage. The hours vary, and evening, nights and weekends may be required. The projected demand for receptionists in general is expected to grow about nine percent from 2018 to 2026. However, for veterinary receptionists, demand growth may be higher due to the growing maket for animal healthcare.
Animal care and service worker
The Occupational Outlook Handbook produced by the United States Department of Labor's Bureau of Statistics lists a catch-all category termed Animal Care and Service Worker. The category includes animal trainers, groomers, kennel attendants, pet sitters and zookeepers. These individuals often work in shelters or rescue organizations, and the responsibilities focus on attending to the basic health and well-being needs of animals.
Most of the positions under Animal Care and Service Worker require a high school diploma or equivalent, and training is usually short-term and on-the-job (although some shelters provide educational training programs). According to the handbook, certification isn't required by law. However, being licensed, certified or registered builds an individual's credentials and generally makes them a more desirable candidate.
For example, an animal trainer in the shelter environment works with the animals to help them become more adoptable by socializing them to people. Several professional associations and hundreds of private vocational and state-approved trade schools offer certification for dog trainers.There are also has certification programs for groomers — the National Dog Groomers Association of America (www.nationaldoggroomers.com) and National Cat Groomers Institute (nationalcatgroomers.com).
The median annual wage for animal trainers is $28,880, and $22,950 for nonfarm animal caretakers, according to the Occupational Outlook Handbook. Work hours vary depending on the setting and may include nights, weekends and holidays. The demand for employees in the Animal Care and Service Worker category is projected to grow at a rate of 22 percent, much faster than the average for all occupations.
Volunteer opportunities
It's an age-old Catch-22 in the job market: You can't find a job without having experience but you can't get experience if you don't get a job. One solution to consider — volunteering!
Simply put, volunteers are the heartbeat of shelters, rescue groups and local humane societies. Facilities are often short on staff and money — yet absolutely teeming with pets who need attention. An extra set of hands is always appreciated. Some shelters may have age restrictions, while others may allow younger kids to participate.
Alternatively, you may choose to foster pets in your home; you could specialize in puppies/kittens/bottle babies, animals with special needs, senior animals or those that are having a difficult time adjusting to the shelter environment.
Working with animals offers many rewards, and as pet owners continue to spend more on veterinary care, demand for workers in related occupations will likely continue to grow. — Ramona Marek MS Ed.