It has been only about 10 years since the word "catio" came into use to describe a cat-sized screened-in patio that lets feline pets enjoy the outdoors while remaining safely enclosed. But in that short time, sales of catios have burgeoned. More and more people have been building DIY catios, too. If you don't have one yet, it's time to think seriously about attaching one to your home or putting up a free-standing catio in your backyard.
Don't stop reading if you live in a high-rise apartment building. There are catios to suit every living arrangement, including specially rigged window bump-outs that allow your pet to enjoy some fresh air while inching just a little bit closer to a passing bee or bird. Whatever the shape and size of a catio, it will make a great solution for allowing a cat to get closer to nature while keeping her safe from predators — in addition to keeping prey safe from her.
Pre-made catios do not come cheap. But some companies also sell inexpensive plans for building your own. This Old House even offers plans for free. Building your own catio may take a little ingenuity but will be easier on your wallet than if you were to buy the same or a similar model pre-made.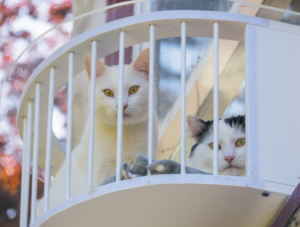 Pre-made option for the apartment (or home) dweller:
Cat Solarium's Cat Window Box is a feline-sized balcony that fits into most windows. The plexiglass scratch-resistant roof will allow your pet to look up as well as out, and you can put a screen around the spokes to keep out insects. (Your cat will not be able to fit her head through the spokes.) It takes about 20 minutes to put together the catio with just an Allen wrench.  Cost is $399 for the model that comes with mesh screen and a plexiglass back panel with a cat door for easy entry. Cat Solarium owner James Cramer says that if you mention you read about his catios in Tufts Catnip, he'll give you 10 percent off on your order.  catsolarium.com or 256-810-8858.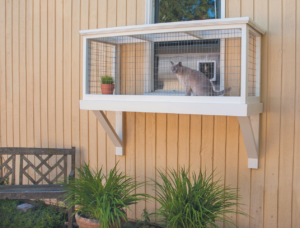 Pre-made option for the homeowner:
The freestanding Paw Hut, 6 feet high by 6 feet wide, comes with six elevated platforms so your cat can enjoy the outdoors from a high-up perch if he wants. The mesh on this "Amazon's Choice" catio will keep him safely inside as he breathes some fresh air during his closer look at the great outdoors. Cost is $389.33 on amazon.com. 
For DIYers
Catio Spaces (catiospaces.com) offers DIY plans to build your own window catio — as small as 30 inches wide or as wide as 98 inches — for $39.95. You'll need to go to the lumber yard or your local home improvement store for all the materials, which will increase the price. But if you're up for the project, your cat will enjoy the opportunity to commune with nature — safely. 
Catio Spaces also offers plans for more elaborate outdoor structures, including an 8-foot- by 10-foot "Sanctuary" that your pet can access from a window. The PDF download with a list of materials and instructions for how to build it costs $59.95. 
This Old House (thisoldhouse.com) offers plans for free for someone wanting to build a two-level window catio. The structure looks terrific when complete, and the site says the skill set required is "moderate." But if terms like "frame crosspiece," "1 5/8-inch fasteners," and "head casing" are likely to turn you into a head case yourself, this project (whose cost is estimated at $490) might not be for you.