Whether it's the luxurious locks of your Himalayan or your tabby's more strictly functional striped coat, a thorough brushing will do more than make your pet look good. It will also remove tangles, mats, debris, parasites, and potential human allergens while improving blood circulation. And you'll also end up with fewer loose hairs around your home and in your pet's digestive tract after self-grooming sessions, which will cut down on hairball production — provided you have the right grooming apparatus to work with your cat's hair and temperament.
For a short-haired cat, the ASPCA says the grooming tool might be as simple as a comb. But there are lots of other options, both for short-haired pets and those with longer coats. Read on to see what could work best for your pet.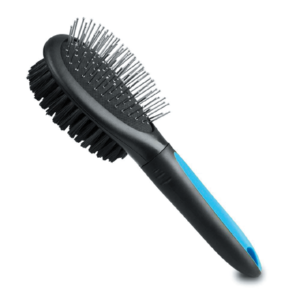 Bristle Brushes: These often come with boar hair bristles on one side and stainless steel pins on the other. You can use the many sturdy pins to sort through tangles and mats down to your cat's skin, then flip the brush to smooth your pet's coat with the bristles. Sensitive types will appreciate the wide-spaced pins, which have a bit more give than a comb so the brushing action won't cause excessive pulling.
Option: You might like the BV Dog Brush and Cat Brush Pet Grooming Comb with its two-sided usability—bristles on one side, gentle round pin tips on the other. It works well on short- and long-haired pets for de-matting and smoothing. Available in black with light blue for $7.99 on amazon.com. An Amazon Choice.
Slicker Brushes: Thin wire teeth at an angle will keep the stress off your cat's skin while making its way through his hair tangles.
Option: The Hertzko Self Cleaning Slicker Brush loosens the undercoat and manages mats, cleaning up neatly afterward with a simple press of a button that pushes fur out. The easy-to-hold ergonomic brush handle makes grooming sessions simpler. Comes in purple. Available for $15.99 on amazon.com and chewy.com.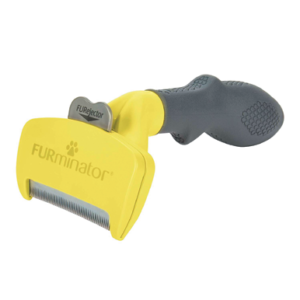 De-Shedding Tool: Tackling the undercoat is a de-shedding tool's task, and its heavy-duty teeth might prove just the trick for those who are extra intent on reducing excess fur around the home — or coming up from their cat's gut in the form of hairballs.
Option: The Furminator for Cats Undercoat De-shedding Tool has a stainless steel edge and a push button fur ejector. Its Curved SkinGuard design keeps your pet's skin safe from irritation while you "rake." The tool comes in small and large sizes (for cats under or more than 10 pounds) and for cats who are either short-haired (2 inches) or long-haired (more than 2 inches). Available in yellow or purple at $22.99 to $31.99 on chewy.com and amazon.com.
Rubber Brush: These brushes are often designed to fit in the palm of your hand, making them less threatening to a cat who shies away from a more visible brush with a handle. They massage your cat as you work over his coat, and the rubber cuts down on unpleasant static electricity.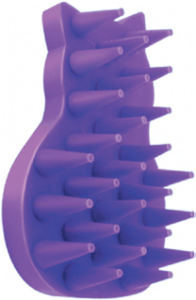 Option: The KONG ZoomGroom, with its widely spaced rubber fingers, works well for sensitive felines. Hairs are easily accessed for removal from the brush once you're done. Available for $3.99 on chewy.com, petsmart.com, and amazon.com.
Grooming Gloves: Cats who balk at any brush or comb coming at them will find a grooming glove far less intimidating because it's attached to your hand and will seem more like petting. Rubber nubs on the palms and fingers of the glove gently massage while clearing debris and loosened hair.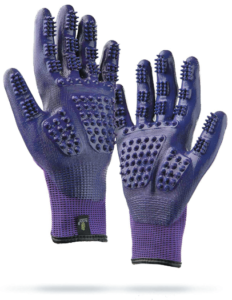 Option: HandsOn All-In-One Bathing & Grooming Gloves offer flexibility of movement, making it possible to brush even your cat's face and ear area with precision and care. You can also use them while bathing your cat. Even with the gloves on, your dexterity remains intact. Available in purple, green, or black in sizes ranging from junior to extra large, all at $24.99 on chewy.com and amazon.com. An Amazon Choice.
Self-Groomer: If your pet won't let you near her with any grooming apparatus or if she would love to be brushed on demand, she might enjoy a bristle or pin brush that you can attach to a reachable spot or that comes as part of a scratching post or climbing structure. That way, she can brush herself when she decides.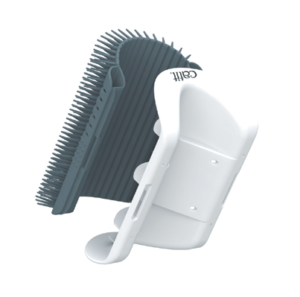 Option: Senses 2.0 Self Groomer by Catit will let your pet self-groom whenever she wants by rubbing against the bristles you've placed for easy access. The model comes with catnip that you put into a compartment under the bristles, attracting your pet to the brush and making the experience that much more pleasurable for her. The easy-to-clean plastic brush costs $3.33 on chewy.com and amazon.com. An Amazon Choice.