Not all cats want to go outside on a leash. But for those who do, harnesses provide a great opportunity for an indoor feline to expand her horizons, literally, while getting some exercise and fresh air. But choosing the right harness to attach to a leash depends on your pet's personality.
For easy-going cats. An H-strap harness works well for cats who are not likely to use their flexible bodies to wriggle out of a harness and run away, putting themselves at great risk. The harness essentially consists of two thin straps. One wraps around the neck area and the other around your pet's middle, keeping a gentle pet secure without impeding motion. An option we like is the Come With Me Kitty nylon harness, which has a bungee-style leash that gently tightens the shoulder area of the harness when your cat is pulling ahead. This particular harness has been recommended by the San Francisco Society for the Prevention of Cruelty to Animals. It comes in small to large, suitable for all-size felines from kittens to large cats. It also comes in six color combinations from black and grey to lilac and deep purple for $14.99 on store.petsafe.net, amazon.com, petco.com, chewy.com, and other sites.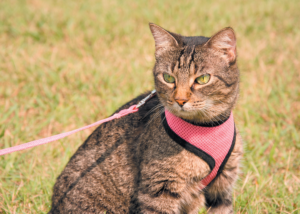 For high-strung wrigglers. While full flexibility is great, providing your whiskered Houdini-like escape artist with a vest-style harness means you can take your pet outdoors without having to worry about losing her should she become alarmed or over-excited and attempt to free herself. The vest wraps fully around the chest and middle, holding your cat with escape-proof security. We give high marks to the Rabbitgoo Cat Harness and Leash Set for Walking. It is made of soft nylon with a sewn-in reflective strip for nighttime safety, a metal ring leash attach point that comes with the harness, and two side buckles that make it easy to secure or release.
The harness comes in extra-small (for average-size cats), small (for larger cats) and small plus for larger cats with wide girth in black, pink, red, or emerald. Costs $13.99 to $14.99 on walmart.com, chewy.com, amazon.com, and other sites. An Amazon's Choice item. Whichever type of harness you're considering, keep in mind that your cat is not just going to simply step into it and be ready to go. She'll need to get used to it. Leave the harness near your cat's favorite spot at home, and begin a process of associating a favored treat with the harness and its eventual use. Your cat should be comfortable wearing the harness at home before you venture outdoors, and then only in the quiet of your backyard or a walking area away from commotion. If your cat doesn't want to go, don't make her. Follow your pet's lead.