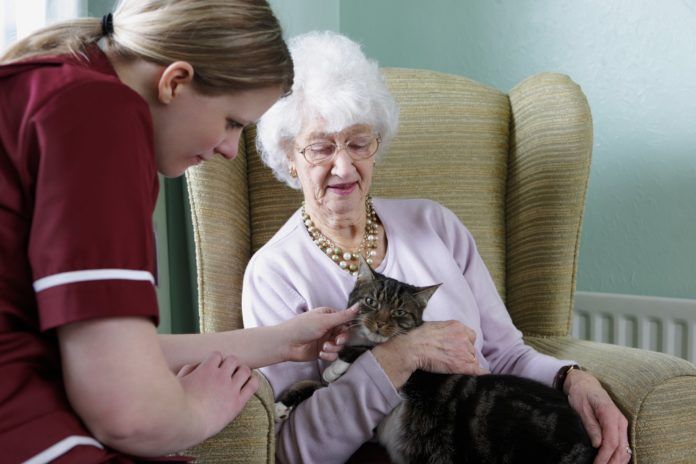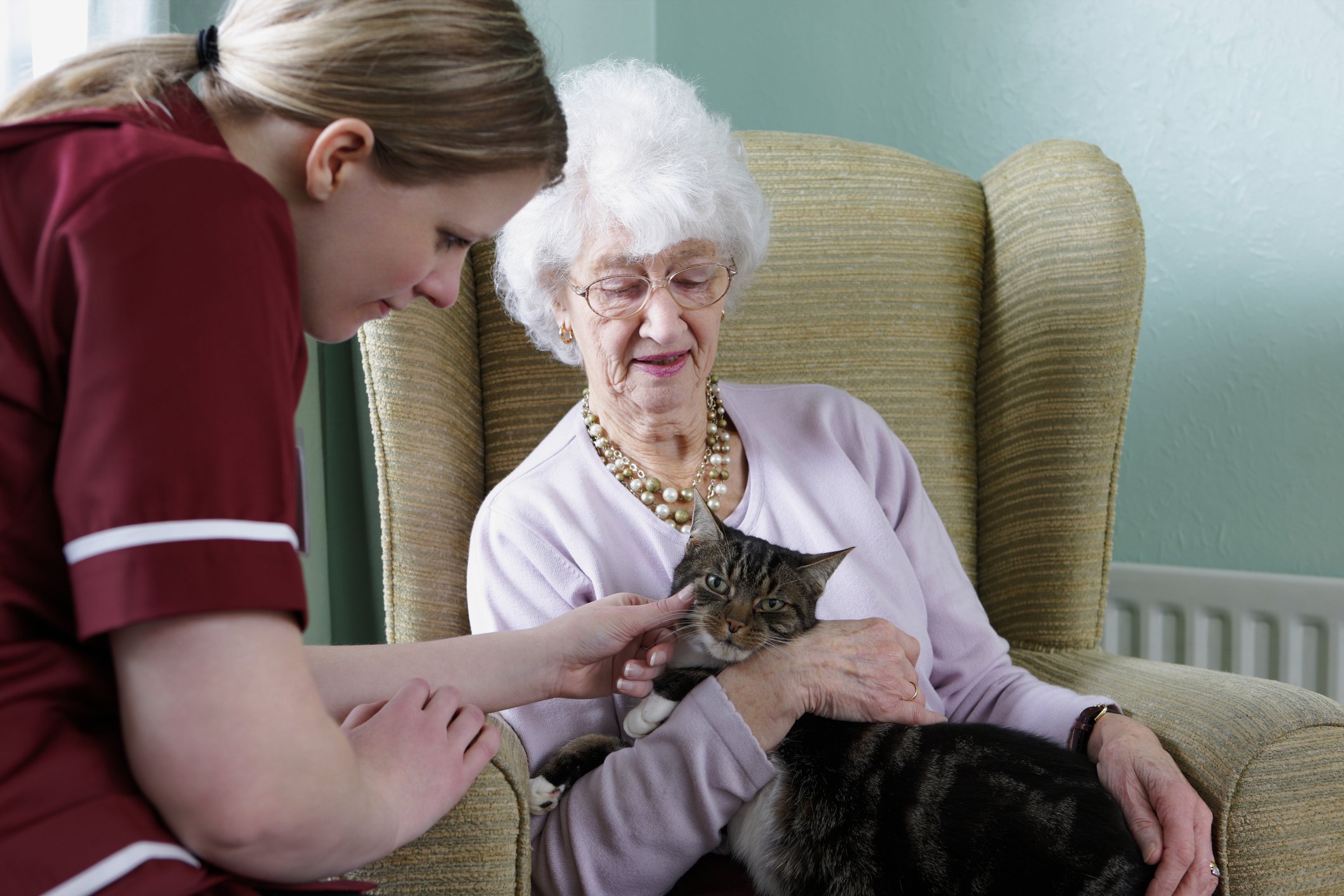 Lunch service is over and Mr. M collects some leftovers to share with his companion, Sissy. He does this every day, after each meal, because Sissy can't come to the dining room. Mr. M takes care of Sissy, and they enjoy their daily walks together. Through these activities, Sissy also helps Mr. M to feel happy and loved. Mr. M and Sissy — a plump black Chihuahua mix — both reside at Pine Grove Nursing Center deep in the heart of the east Texas piney woods in Center, TX.
Pine Grove has another furry friend, Precious, who visits twice a week with her owner, Kellie Baty, who is the community's beautician. Precious — a personable Boston terrier — sits in a chair and visits with the residents who sometimes paint her nails. Precious makes special visits to the residents who don't leave their rooms on a regular basis, or those who weren't able to make it to the beauty shop that week.
According to Julie Harbison, Pine Grove's administrator: "There is a grieving process with residents who have had to leave their home, whether long-term or short-term, and they don't have their animal companions anymore. It's so nice that we can have the pets here."
The importance of pets
For many senior citizens and their families, the transition to a care facility is emotionally stressful in itself — but a strong bond with a pet can add significant worry concerning the future of the pet. Sometimes, a necessary move is delayed when a pet is involved. That emotional strain is being lifted by an ever-increasing number of senior living communities that allow companion animals. According to A Place for Mom — the nation's largest senior living referral service — approximately 40 percent of the people who call are specifically asking about pet policies.
According to the CDC, nursing homes, assisted living facilities and skilled nursing facilities (known as long-term care facilities) provide a variety of services, including medical and personal care to those individuals who can no longer independently care for themselves. Annually, about one million people live in assisted living facilities and more than four million reside in, or are admitted to, skilled nursing facilities or nursing homes.
Elder care is evolving
Over the past 20 years, there's been a cultural change toward a person-centered model of care for our elders. The acceptance of fur, feathers and fins in the nursing home setting has been a major part of that change. The use of animal-assisted therapies, along with visits by therapy animals, pets on staff and personal pets are now accepted as an integral part of the individual's overall health and well-being.
Residential care facilities understand the importance of pets and, according to the 2010 CDC National Survey of Residential Care Facilities (the first of its kind), 39 percent of them had residential pets that include dogs, cats and birds on staff for the residents. The survey also cites that 54 percent of residential facilities allowed residents to bring their personal pets.
The most common pets are primarily dogs, cats, birds and fish. Not all care facilities accept pets, however, and requirements vary among those that do. Among some of the most common requirements are:
-The limit to the number of pets an individual may have (usually that number is two). Be aware, however, some places also have breed and size restrictions.
-The individual must be able to care for the pet and have a back-up care plan in the event they are no longer able to care for the pet. Some places have Pet Care Coordinators, but do your homework ahead of time to avoid a disappointing surprise.
-The resident must be financially able to provide food and veterinary care.
-The pet must be current on vaccinations.
-Often, a pet deposit is required.
-The pet must meet guidelines of weight, behavior, age, size, breed and other possible restrictions.
As the number of pet-friendly residential care communities continues to grow, there are some communities where animals are more than just accepted — they are required. For example, at the Eden Alternative and Silverado communities, animals are a core part of their philosophy of care. Some of their staff animals include pot-bellied pigs, a baby kangaroo, rabbits, small horses and llamas. Residential care facilities incorporate caring for the animals — whether staff pets or personal pets — as part of the resident's treatment plan.
Pets act as motivators
Care providers see benefits including improved mood, reduced anxiety and a desire to get well faster. "I can't tell you how many times when a resident has come in here for physical therapy that I've heard them say they have to get back home to their dog or cat. They say they have someone looking after the pet but they always emphasize, 'I have to get back home to take care of my babies!' The biggest motivator is their pets," says Harbison. "We have always tried to be very open about people bringing in their pets for visits, if they have one at home. We haven't had a bad experience yet."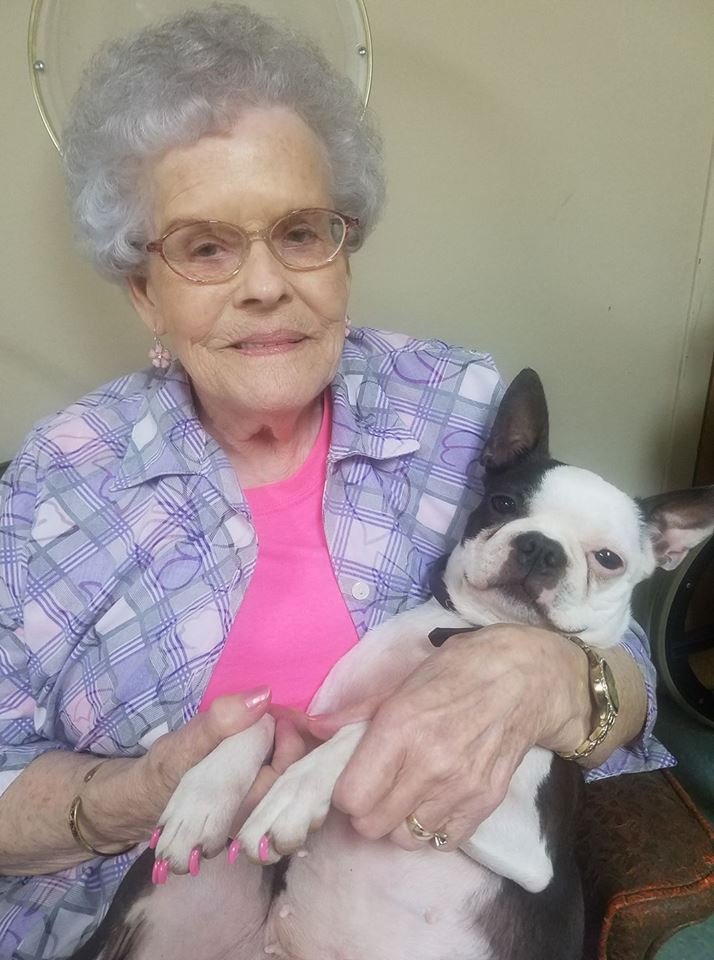 Finding pet-friendly places
There are a number of websites that can be searched for pet-friendly nursing homes or assisted living communities (see resources listed on page 4). Once you've narrowed down a few candidates, Harbison advises: "Stay local if that's possible and always visit the community in person, no matter where it is. If pet-friendly is extremely impotant to you, an in-person visit can't be beat."
Pets enhance physical health and emotional well-being, contributing to higher quality of life; this is especially important for elders who face loneliness, isolation and depression. As more health studies show the positive health benefits of pet companionship, it's likely more long-term care facilities will become pet-friendly in the future.
— Ramona Marek, MS Ed.
---
Some Resources to Help You Get Started
A Place for Mom (www.aplaceformom.com) or (866) 518-0936
SeniorAdvice (www.senioradvice.com) or (888) 305-1171
SeniorAdvisor (www.senioradvisor.com) or (800) 805-3621
The Eden Alternative (www.edenalt.org) or (585) 461-3951
Silverado (www.silverado.com) or (866) 522-8125