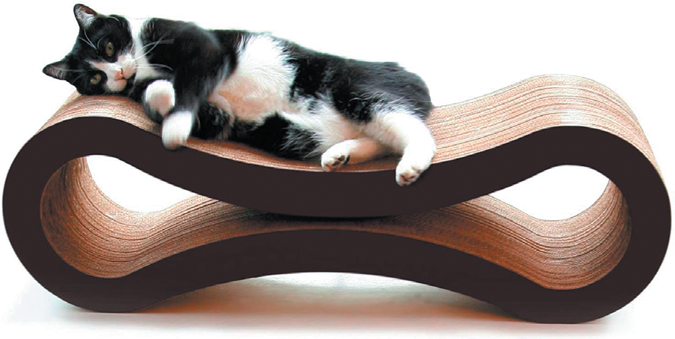 If you're looking to lessen your impact on the environment but still want to keep your cat happy with fun toys, a comforting bed, and other accouterments, consider some sustainable alternatives to less planet-friendly fare. The products here offer a few of the ever-increasing number of ways you can lessen your cat's carbon paw print. You may even decide to purchase extras for family and friends this holiday season.
Toys
Earthtone Solutions Felt Wool Balls and Mice comes with three balls and two mice, meaning plenty of soft, durable toys to chase down and tussle with. An additional plus is that there is no noise to disturb you or your downstairs neighbor as the balls roll across the floor. The golf-sized balls and realistically sized mice are colored without azo dyes, which are commonly used but are considered potential carcinogens. Hand wash and air dry. Costs $10.97 on amazon.com.
Scratchers
Petfusion Ultimate Cat Scratcher Lounge's sleek design combined with its corrugated cardboard material earned it a 2015 Eco-Excellence Award from Natural Child World Magazine. Its unusual figure 8 shape consists only of corrugated cardboard and corn starch glue, and its curves are well-suited for cat naps after a vigorous scratching session. Measures 34″ x 10.5″ x 10.5″. Colors include slate gray, walnut brown, and cloud white. Costs $49.95 on chewy.com.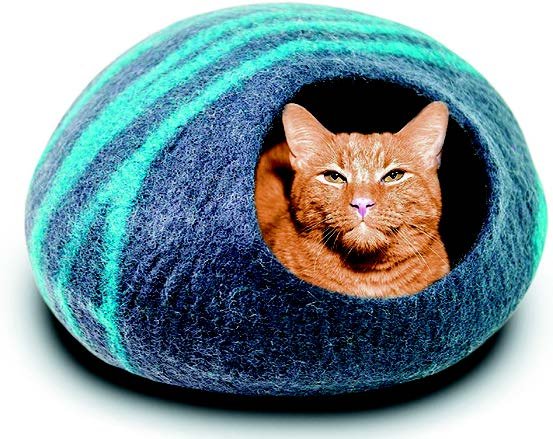 Beds
The MEOWIFA Premium Cat Bed Cave provides your pet with her own private "cat cave" of soft merino wool. The enclosed resting spot is made in Nepal through a process called felting— a molding of the bed's shape using only soap, water, and pressure. The handmade beds, with attractive exteriors in colors like asphalt/aqua and slate grey, can be used by cats as heavy as 20 pounds. And they resist odors and stains. Comes in both large (19″ diameter x 12″ height x 8″ entrance) and medium (15″ diameter x 10″ height x 7″ entrance). Maintained with hand washing and air drying. Costs $49.99 (large) or $39.99 (medium) on amazon.com.
Cat wipes
Earthbath All Natural Cat Wipes are biodegradable and safe enough for daily use to keep your cat's coat clean and sweet-smelling. The thick wipes condition fur and can be used on cats more than 6 weeks of age. Comes in a Green Tea and Awapuhi formula and also a hypoallergenic formula. Costs $10.99 on chewy.com.
Kitty litter
Purina's Yesterday's News is an unscented, odor-control pellet litter comprised of recycled paper. The non-toxic litter doesn't clump, absorbs three times the moisture of clay-based litter, and is dust free — making clean-up easier and safer. Users should be aware that the product poses a potential allergy risk due to traces of cashew nuts used in the formula. Available in original or softer texture and costs $18.99 for a 26.4-pound bag on chewy.com.
Food and water bowls
Bamboo Bowls, made of cooked rice husks and bamboo and colored blue and white with an all natural plant dye, will not only do the trick for holding your cat's food and water but are also dishwasher safe. In fact, due to the extreme heat and pressure used in processing them, the bowls are more durable than regular plastic models without the risks of leaching or easy bacterial growth. The square bowl is recommended for food and the round bowl is angled to make drinking easier. A single bowl costs $4.99 and is available on thegreenpetshop.com.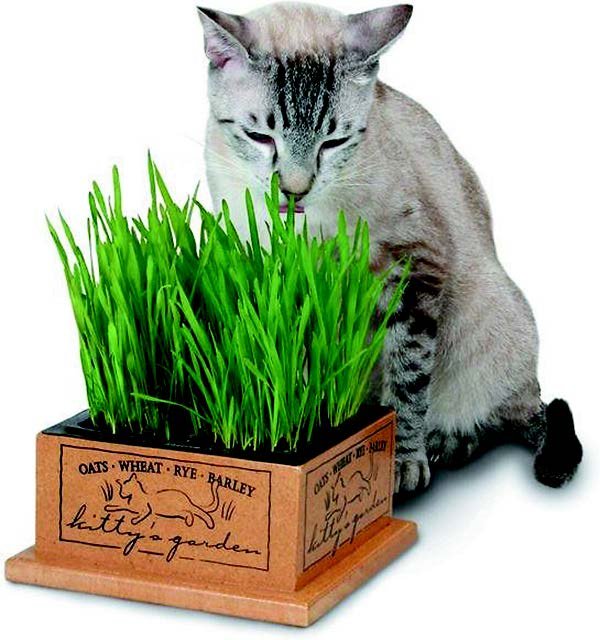 Indoor garden
SmartCat Kitty's Garden kit brings nature indoors for your housecat's enjoyment. It includes a pot, peat moss, soil, and organic seeds (barley, wheat grass, and rye) that will grow into 4-inch edible greens in 4 to 8 days. The attractive wood planter can be refilled to keep greens continually available to your pet. The kit and refills are available for $9.95 on chewy.com and onlynaturalpet.com.