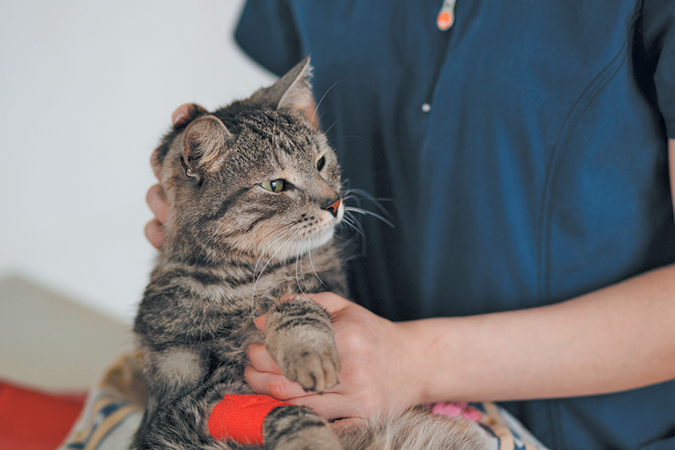 Perhaps your cat is aggressive to the point that you can't defuse the situation on your own. Or he keeps getting into the linen closet despite all your efforts to keep him out of there. Or he won't stop climbing on the table while you're eating. Where do you turn? To an animal behaviorist, of course.
Here's a run-down of the credentials needed for four recognized types of animal behaviorists so you can find the best match for your cat — and you.
Board-Certified Veterinary Behaviorist. A veterinarian who is board-certified will have the letters DACVB behind his or her name, which means the doctor is a Diplomate of the American College of Veterinary Behaviorists. It's a hard status to attain, designating not only that the doctor graduated from an accredited four-year veterinary school but also that he or she received additional years of training (often three) in veterinary behavior.
Veterinarians are uniquely qualified to understand the interplay between medical problems and behavioral issues. And unlike all other animal behaviorists, they can prescribe drugs like anti-anxiety medications to take the edge off impulses that lead to problem behaviors, all while teaching owners behavioral tricks for readjusting their pets.
Surf to dacvb.org and click on the "For the Public" tab to get to the "Find a Board Certified Veterinary Behaviorist" subtab.
Certified Applied Animal Behaviorist. While all veterinary behaviorists have the same level of training — veterinary school followed by a residency in animal behavior — certified applied animal behaviorists may come through the ranks a bit differently. But all must have both an undergraduate and graduate degree in animal behavior or veterinary medicine (with advanced training in animal behavior) and must pass rigorous oral and written exams. They also must have hands-on supervised experience with animals and meet other requirements set by the Animal Behavior Society (the leading organization in North America for the study of animal behavior).
Go to the homepage of corecaab.org and click on the "Behaviorist Directory" tab.
International Association of Animal Behavior Consultants. Someone certified by this organization is not at the doctoral level but has "gone through a rigorous training program that provides a good basis in behavior modification," says Tufts veterinary behaviorist Stephanie Borns-Weil, DVM, who heads the Tufts Animal Behavior Clinic. The organization offers several tiers of membership to match different skill levels.
Members work to minimize the use of aversive stimuli (infliction of punishment) and maximize the use of positive rewards to modify animal behavior. That's best, the organization says, because it is associated with the lowest incidence of aggression, attention seeking, and avoidance/fear in pet learners.
Check out iaabc.org and click the "Find a Consultant" tab at the top.
Karen Pryor Academy for Animal Training & Behavior. Certification from this organization means the behaviorist has learned force-free training from a community of positive reinforcement trainers who see shared value in collaboration and discussion of training science, practices, and related issues. The organization offers a number of courses (including "Train Your Cat" and "Better Veterinary Visits"), and students participate in all of them via an online learning platform. That has built-in limitations, of course, but there's still good value.
Type karenpryoracademy.com and click on "Find a Trainer." The large majority of trainers focus on dogs, but there are some cat trainers strewn among them.
There are other organizations that also teach behavioral training for cats, but these are the main ones and should be enough to get you started in your search. Much of your choice is going to be based not just on the level of education of the person you seek but also on cost and convenience — the price of the visits and the drive time to the sessions. Just make sure that no matter who you engage, it is someone who uses positive tactics only. You can teach a lot more by rewarding the right response than by punishing the wrong one.