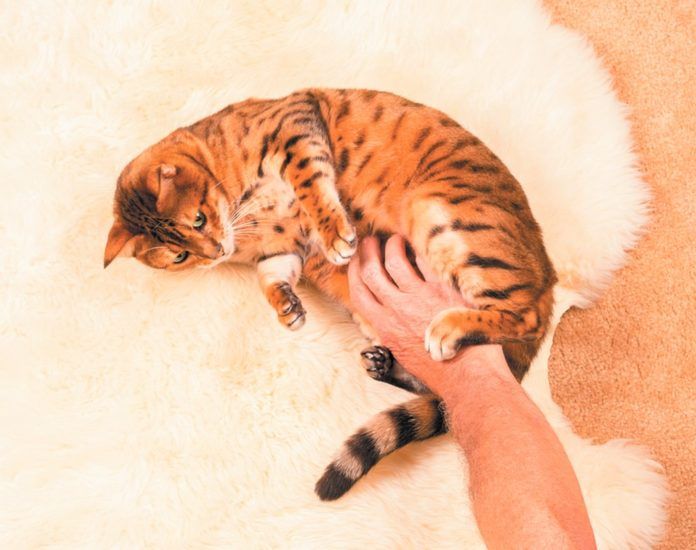 Your cat rolls over on her back and presents her belly to you, so you return the apparent gesture of affection by stroking it, as you would for a dog. But instead of relaxing and enjoying the moment, she turns into the feline version of Cujo, scratching and biting you to make you stop. Why did she show you her belly if she didn't want you anywhere near it?
It could very well be that she's not looking for you to return the warmth in the way it appears. It's true that when your cat exposes her belly to you, she may be giving you a loving gesture that lets you know she feels safe, relaxed, and trusting in your presence. But the hair follicles on a cat's belly, unlike on a dog's, are more sensitive to touch than elsewhere on the feline body. So when you stroke them, it might feel to your pet as if you are pulling on them or simply providing too much tactile sensation. Even if your cat enjoys a belly rub now and then, she can only take so much of it, which is why she might go from docile to hostile very quickly.
Some cats also don't like tummy rubs because of an instinct they have for protecting the abdominal organs in the underbelly. The take-away: don't automatically assume the affection she's showing you with her belly is supposed to be returned via her belly. She may just be enjoying the moment.
Furthermore, sometimes exposing the belly is a defensive posture rather than a happy one. In the wild, if a cat gets into a fight, she will roll over on her back in order to use her claws and teeth to the best advantage to fend off her attacker. You've got to sense what's going on in her head — and respect her wishes no matter what emotion she's expressing.